Services
Cloud Migration Solutions
GreyTeak Cloud Solutions
Transformative technology solutions to build sustainable and competitive businesses
Migrating to the cloud is not an easy out of the box task. It involves careful planing and meticulous attention to detail specially when it comes to a distributed system.

Cloud migration could be from your in-house systems to cloud or converting an existing cloud system to another. Also it is important to understand the targeted cloud models during the planing stage so an optimum outcome can be achieved.

GreyTeak has years of expertise in helping clients worldwide move to Microsoft Azure Cloud and Amazon Web Services Cloud. We offer start-to-finish comprehensive solutions for all sizes of cloud migration project requirements.

There are many options when planing to move legacy or in-house applications to a public cloud.

Cloud service providers such as Microsoft Azure and Amazon Web Services primarily offer Public Cloud options which can be catered to facilitate a Hybrid Cloud solution with careful planing.

Cloud data security is one of the most important to address in any form of cloud migration planing. At GreyTeak we take data security as an extremely important aspect in any of our solutions.

Our educational database (soon to be added to this website) will provide a wealth of material which explains various terminology and concepts in plain English. Also we conduct "cloud discovery" sessions occasionally or on-demand. These session provide the necessary background for any high-level client stakeholders who are considering migrating to the cloud. Please see below for more information.
GreyTeak Cloud Migration Stratergy
At GreyTeak we utilise a 7-step cloud migration strategy. We follow this strategy for every cloud migration project. This allows us to provide a seamless and error-free migration process. We believe the success in any migration project is in its assessment and thorough planning.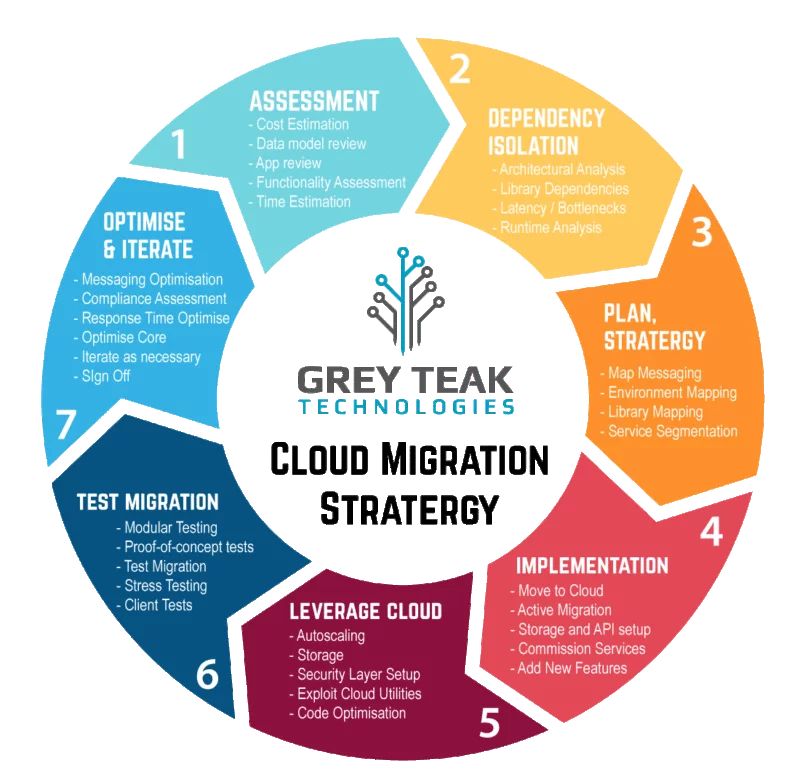 Advantages of moving to Cloud

Cloud is a pay-per-use model. Which means you only pay for what you use
Cloud provides higher availability and better dependability
You essentially LEASE resources from a cloud service provider so requires minimal capital expenditure
Much lower Total Cost of Ownership (TCO)
Cloud is on-demand – you can lease from an 'almost infinite' resource pool as and when needed
Comprehensive usage monitoring and metering tools
Modularization and ability to setup Micro-Services comes straight out of the box
Can 'scale' up or down on-demand with minimum cost (you only pay what you use – hourly)
Supports 'Hybrid' on-cloud and on-premise mixed/connected use
Clear abstraction of IT features and resources at most levels – for easy manageability and accountability
Financial benefits over time
How can software improve your business? Find out how GreyTeak can help.
Arrange your free* consultation:

* A free consultation is only applicable for some projects. Certain projects may require a thorough
requirement analysis which requires a payment – which we will communicate clearly to you prior
to doing any work.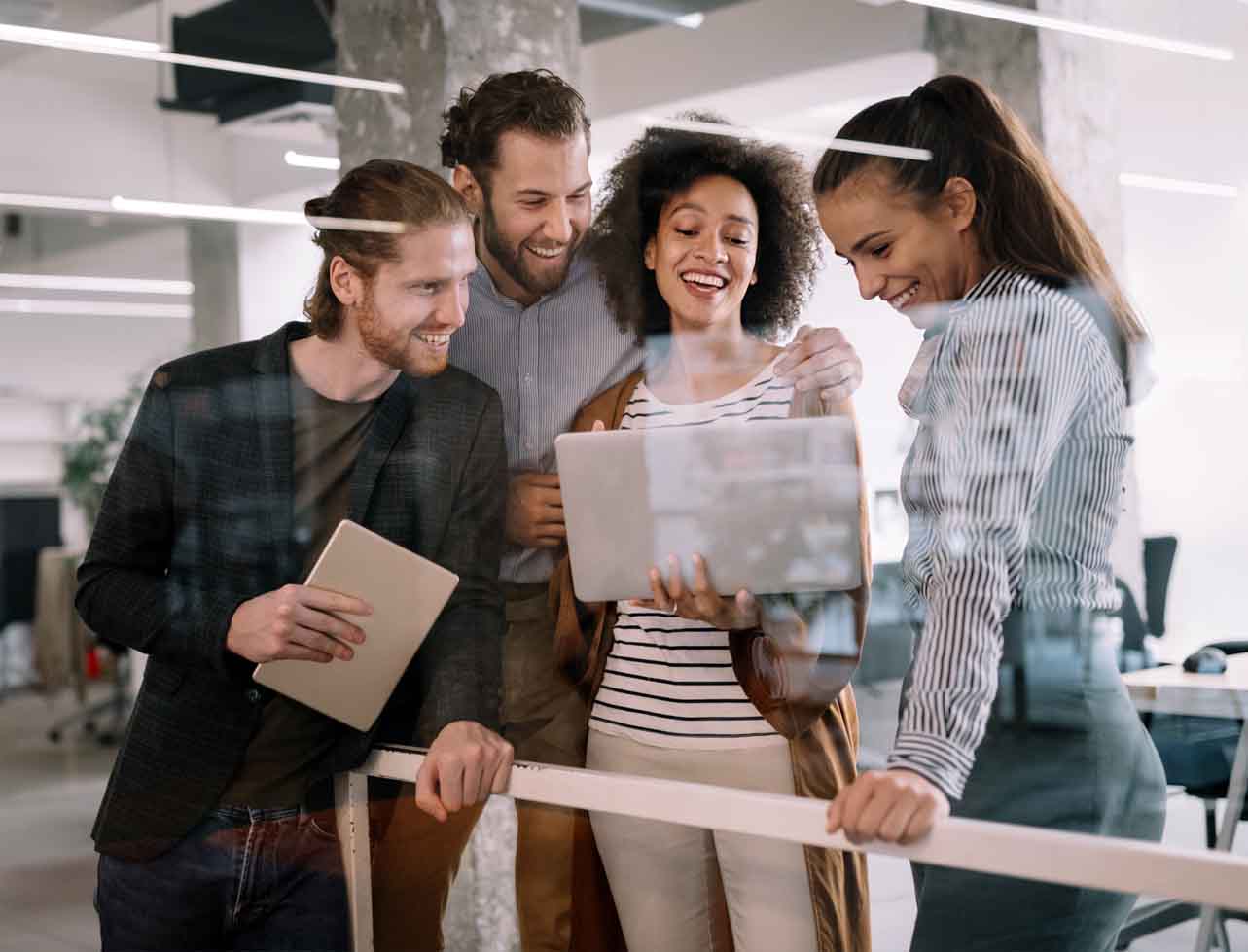 — Our Services
We challenge the status quo to design and develop best in class solutions for your business.
– Web Dev – App Dev – Cloud Migration – Business Process Improvement – Customer Software Development – API Integration

– E-commerce Solutions – GET E-Commerce – Store Development / – Store Management – Shopify Store Development – Cross Integration Solutions – Product Research

– Data Scraping / Research – Analytics – Machine / Deep Learning Solutions – Customer AI Solutions – Algorithm Development – Fin-Tech

LUKE PIRRIE
UCART Pty Ltd

"GreyTeak have added exceptional value to our business through their dedicated approach and knowledge of all IT matters."

ARLENE AUDERGON
Director, CFOR Ltd

"We feel gratitude and loyalty! Thank you."

JOE WISE
Managing Director, Ibiza Angels Group

"They are responsive, knowledgeable, reliable and committed to the consistent delivery of high service levels."

RANDY KOROLUK
Director, Foothills Business Brokers

"The end product has always been excellent and delivered on time!"

SHANE PERKINS
Partner, Keats Estate Agents Limited

"We find all our issues have been dealt with promptly and efficiently and I would have no hesitation in recommending their services."

SHARON KENNET
Director, Coaching Nation

"GreyTeak has always been amazingly knowledgeable!"

OLIVER CHOW
RHF Stone, Coolaroo VIC

"GreyTeak did a great job, thank you very much Rich and the team at GreyTeak."

CECILIA SOULOS
Director, Sleepwell Clean Pty Ltd

"They have understood our brief from the initial phase and continues to provide our company with support as we expand."

NICLAS & RACHAEL, FOUNDING PARTNERS,
Haven The Agency Pty Ltd

"GreyTeak did an outstanding job and exceeded our expectations. Extremely thorough and knowledgeable and great communicators!"

NICLAS & RACHAEL, FOUNDING PARTNERS,
Haven The Agency Pty Ltd

"GreyTeak did an outstanding job and exceeded our expectations. Extremely thorough and knowledgeable and great communicators!"

STEVEN GEE
Director, Nine Mile Development

"They are reliable, trustworthy and very knowledgeable and I would recommend unreservedly."